Brownies or blondies? Which one do you like most?
Both are usually: moist, soft, square shaped, black or white, flavourful and addictive. The original brownies or blondies contain a lot of sugar and butter. Of course you can eat this sometimes on a special occassion, but for sure not too often.
Well, since a few years that reason made me enthusiastic to make "healthyfied" brownies and blondies. For example I made and shared:
As you can see I experimented with all kinds of pulses, vegetables and/or fruits in my brownies/blondies, like sweet potato, banana, white beans and chickpeas.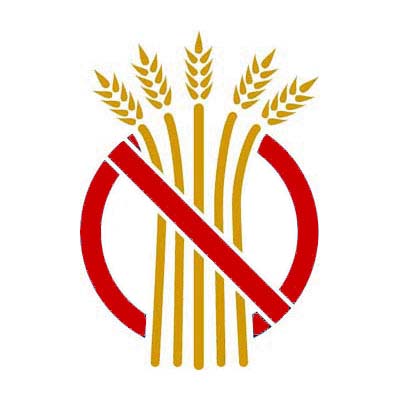 Since I have to eat gluten-free for a while by instructions of my specialist, I became more and more interested in finding ways to vary with meals throughout the week. I learned a lot about health & nutrition in the past decade, but I never had to REALLY eat gluten-free, so of course: I didn't. Because you really don't have to avoid eating gluten as long as you don't have a disease, syndrome or another health issue! Gluten aren't bad things for overall healthy people.
I started my gluten-free diet period with the well knows gluten-free ingredients, like rice, quinoa, sweet potatoes, chickpeas and … yes, that was about it.. Especially snacking was a little hard for me in the beginning, because I loved bread, crackers, biscuits, cakes, etc.
Now that it all has to be gluten-free, I started varying more with other things, like lentils and buckwheat.
Today I was really in the mood for baking. I still had leftover chickpeas in my fridge, and I right away thought of making blondies with these pulses, but I didn't like to make one of my previous recipes. Also the skinny chickpea blondies I made before need overripe banana, and the bananas on my kitchen counter were just not overripe yet. That was another reason to make something NEW! 😀
I decided to still go with the chickpeas but to use other ingredients than banana as butter substitute.
Just a little bit about chickpeas first.
Not only its surprising taste, but also the surprising nutritional value of chickpeas is exciting. Chickpeas are member of the pulses family and the beans provide in a lot of important macro- and micronutrients. The peas are rich in fibers, protein, (low GI) carbs and also provide a lot of vitamins & minerals, like folate and zinc. Chickpeas are known for improving cardiovascular health, protecting against cancer, increasing satiety (and therefore can help with weight loss), improving digestive health, providing long lasting energy & stabilizing blood sugar levels
(Dr. Axe, 2017).
I created Chickpea Peanut Butter Chocolate Chip Blondies!
After a bit of trial & error, I was totally satisfied with my new variation on chickpea blondies! Actually, my husband loved (!) them too! He loved to eat them just before his workouts. I like them as a morning snack with some good strong black dark roast coffee :). So, what's in it and what makes them taste so nice?
Why do they taste so good?
They are spiced with vanilla and speculaas spices (feel free to use cookie spices, chai spices or just cinnamon) that give an awesome touch to the blondies. Also, they are very moist but just not fall apart, but they do sort of right away melt in your mouth when you eat them! The chocolate chips (go for very dark) give some some unexpected nice bites. The dates & maple syrup give the blondies a slight & nice sweet taste.
Besides, I like more because of its nutritional value! Slow as well as quick releasing carbs & fibers (chickpeas, maple syrup, dates), to give you a nice & healthy shot of energy. Chickpeas are also a great source of plant based protein. Flax seeds and peanut butter are great for some additional protein and good fats.
These blondies are great as a small snack and contain about 70-75 calories per square blondies of 2 x 2″!
The blondies are vegan (plantbased), vegetarian, gluten-free, diary-free and sugar-free.
Below you can find the recipe and I hope they come out as good as mine come out! At the bottom of the post you can find alternatives to some ingredients. Be aware it may change the taste if you replace ingredients. Also, don't bother to react on the post with the questions you might have!
| | |
| --- | --- |
| | |
Preheat oven to 350 degrees

Put the flax seed in a small bowl, add the water and stir. Let rest until it becomes gelatinous (usually takes about 10-15 minutes for it to become 'flax eggs')

Put the chickpeas, dates, maple syrup, peanut butter, baking powder and spices in a big bowl and blend it until smooth (I used a hand blender)

Add the flax eggs too and blend again to smooth

In the end: add the chocolate chips (leave 1 tbsp for topping) and stir again

Put the batter in a square baking pan (e.g. 8x8")

Spread the last tbsp of chocolate chips on top of the batter

Bake in preheated oven for about 35 minutes until firm (and when top is slightly firm)

After taken out of oven, leave in the pan for 10 more minutes

Take it our of the pan and let it cool for another 30-60 minutes (the blondies become more firm when cooled down)

Cut the cake in about 16 square blondies, and enjoy!
Alternatives:
Use chia seeds to substitute flax seeds
Use 2 eggs to substitute the flax seeds & water (not vegan)
Use honey to substitute maple syrup (not vegan)
Use almond butter to substitute peanut butter
Chickpea Peanut Butter Chocolate Chip Blondies